Make your renovation and remodeling dreams come true with BR Bathroom Renovations in Thornhill
Thornhill offers residents the comfort of suburban living with the excitement of Toronto and historic Yonge street just minutes away. At BR Bathroom Renovations, we provide beautiful bathroom remodeling and renovation for your home in Thornhill. From custom cabinetry to shower and bath remodeling, our experienced team can help you achieve your vision for your home.
Get started now by scheduling your consultation. Call (647) 834-8346.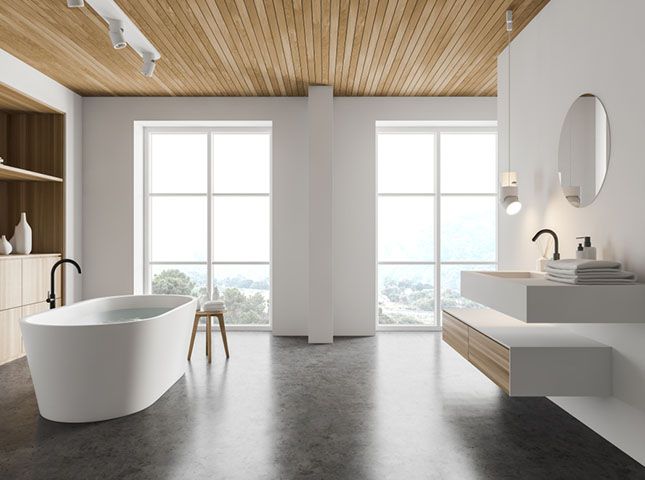 Bathroom Renovations Thornhill: Why Should you Remodel your Bathroom?
Imagine performing your morning routine in a bathroom custom made to your specifications. Everything is organized, new, functional and beautiful. If you are like many homeowners, yourbathroom is not like this…yet. Instead, you may be stuck with worn-out builder grade fixtures of a design chosen by a previous owner. This can all be changed with quality bathroom renovations.
Contact Us Today
In Thornhill, residents who choose remodeling can expect the following advantages:
Peace of Mind: While some renovations are exclusively for aesthetic reasons, many can help prevent bigger problems from forming. If your bathroom is older, years of built up moisture and general use could have caused water damage and mold. A renovation can help find and address these issues before they become bigger problems.
Return on Investment: You can expect to recoup around 50% or more of your renovation costs when you sell your home. This makes bathroom renovations among the most sound investments.
Energy-Efficiency: Upgrades like low flow toilets and radiant flooring can help to save water and energy. You will save money in the long run while also minimizing impact on the environment. Improving insulation around windows should also be on your renovation list as it can lower energy costs and make your room more comfortable.
Quality of Life: If you are living with a rundown bathroom that lacks storage, has a leaky shower, drafty window or anything else that makes it uncomfortable, a renovation might be even more necessary than you think. Aside from your bedroom, your bathroom is likely where you start and end your day. Living with a bathroom you do not like, that looks and feels uncomfortable, can have a negative impact on your mood. With renovation, you can get the comfort, look and functionality you deserve.
Safety and Accessibility: If you or a loved one suffers from stiff joints, balance issues or limited mobility of any kind, a bathroom remodel can increase safety and accessibility. Consider adding a step-through tub, seamless shower, and grab bars for easier use.
Get An Estimate Today
Small Bathroom Renovations Thornhill
Small bathrooms can sometimes be a big problem. Bathrooms measuring less than 40 sq. ft. are considered small and often lack adequate storage. This is a common issue in historic homes like the ones in Thornhill since bathrooms were generally built much smaller in the past. However, if you have a small bathroom, there are many renovation ideas to update and upgrade your bathroom.
Add storage options to small bathrooms
Many small and older bathrooms have areas that go unused. Corners, under sinks and above toilets are often areas that are under utilized. With custom cabinetry, you can have a perfectly fitted corner shelf, above the toilet or under the sink storage.
Contact Us Today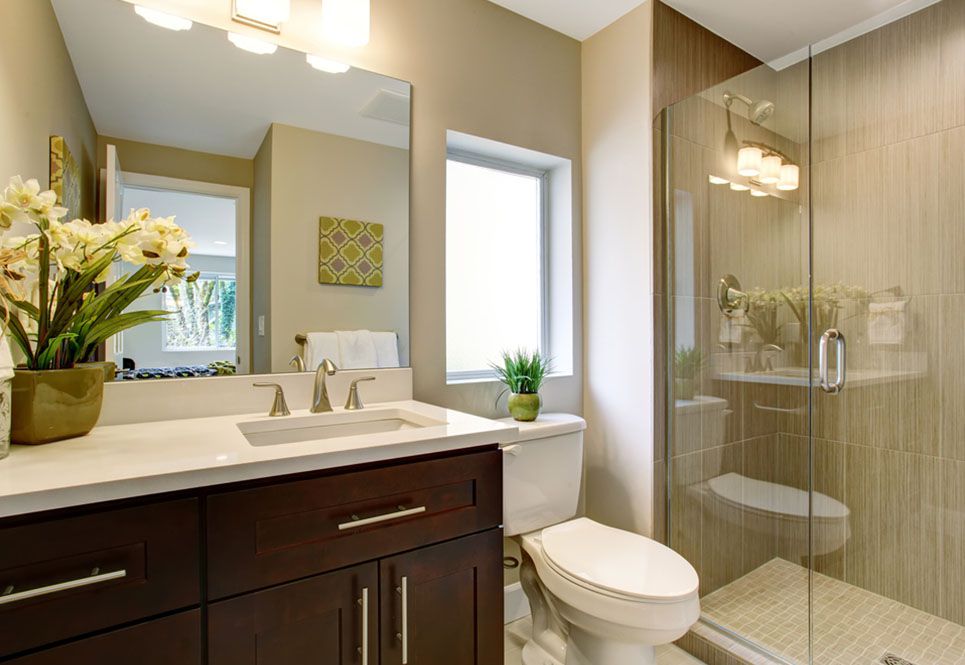 Choose low profile bathtubs, vanities, cabinets and fixtures
Depending on just how small your bathroom is, you can often remedy the issue by choosing smaller items. With the prevalence of "tiny homes" smaller fixtures are now more common and you may not even need anything custom built. While smaller fixtures may not solve storage issues, they can make your bathroom much more comfortable.
Contact Us Today
Make your bathroom bigger
If your small bathroom shares a wall with a closet or other small room, you may be able to remove a wall and expand your bathroom. This is not right for every house and may not be possible in some historic houses, but our experienced bathroom contractors will be able to determine what will work best. With this type of remodel, many people are able to get the bathroom they have always wanted while staying in the home they love.
Contact Us Today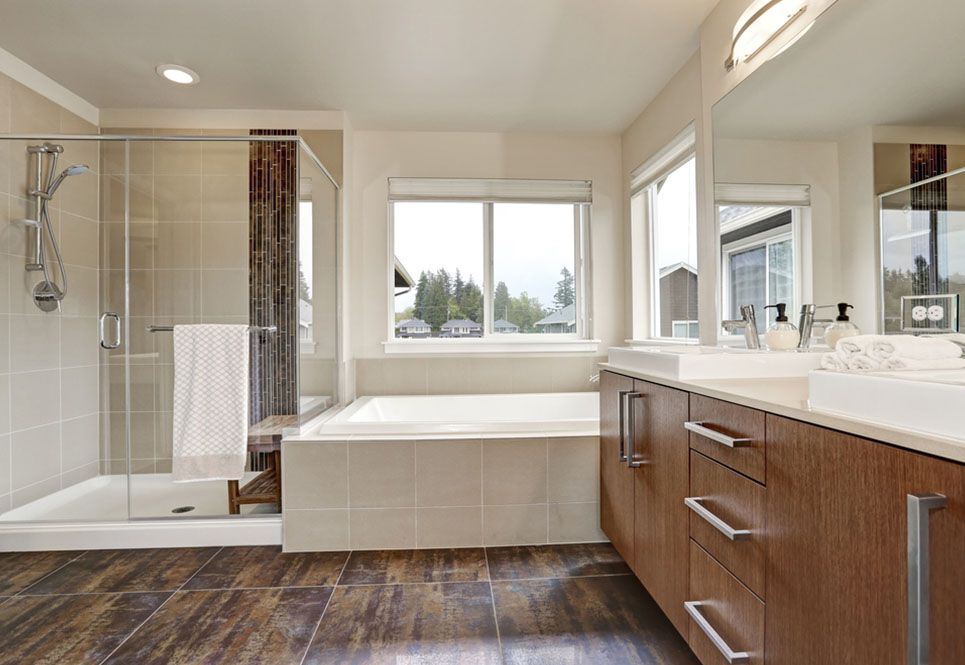 Guest Bathroom Remodel in Thornhill
Guest bathrooms located off of a spare room or down in a basement are great for when you have company, but with a proper remodel you can optimize the use of these rooms. Get more from an extra bathroom with these ideas:
Use your guest bathroom for storage. With extra shelving or a linen closet, your spare bathroom can keep things organized and out of the way but still convenient.
Add luxury additions such as a sauna or jacuzzi. Putting these additions into a guest bathroom will not only make your guests' stay nicer, but it will also keep your main bathroom from being occupied while someone relaxes in the sauna.
Connect a bathroom to your guest bedroom. If you have a bedroom that shares a wall with a bathroom but there is no connecting door, a remodel could make this happen. Having a guest bathroom that attaches to a bedroom provides more comfort and privacy.
Large Bathroom Renovation Ideas
Bathrooms measuring 100 sq. ft. or more need special consideration when renovating. While a small bathroom can be difficult to fit things in, a large bathroom can seem under utilized if you only have the very basics.
If you are considering remodeling a large bathroom, consider some outside the box options. Features like a sauna or jacuzzi can create a luxurious spa experience right in your own home. An entertainment area complete with a television, bookshelf and comfortable seating area can be the perfect place to relax after a bath.
Whatever your vision is for your bathroom of any size, BR Bathroom Renovations is here to help!
Schedule Your Bathroom Remodel Thornhill
Ready to get started on your bathroom renovations? Thornhill residents can contact BR Bathroom Renovations today to schedule a consultation and price quote. Our experienced bath renovation contractors can help you achieve your vision and offer informed input on what will work best for your home. To get started, contact us at (647) 834-8346. Let's get renovating together!