What Are the Latest Colors for Bathrooms?
Bathrooms often don't get the attention they deserve when it comes to decorating. This has changed as DIY and home improvement shows have become more popular but what if you do not have an entire crew and a huge budget to upgrade your bathroom? This is where the latest colors for bathrooms can really help you to transform this space. Take your boring bathroom to the next level with these trending colors.
Crisp, Clean White with Splashes of Color
White has been a popular bathroom color for decades but that does not mean it has to be boring.  With modern styling, you can make white walls and floors pop with the addition of brightly colored accessories. There are really no rules or limits to what you choose for accent colors but to avoid having a small bathroom look cluttered, it is best to choose one or two colors and use them consistently. To create continuity, each color should be used at least three times and be evenly spaced throughout the room.
Glamorous Grey
Grey is often associated with a cloudy sky, but grey in a bathroom is anything but drab. With everything from deep charcoal to soft, dove grey, grey is an elegant choice perfect for many homes.  Go for deeper shades to capture a sense of luxury then use pops of white to break up the space.
Inspired by Nature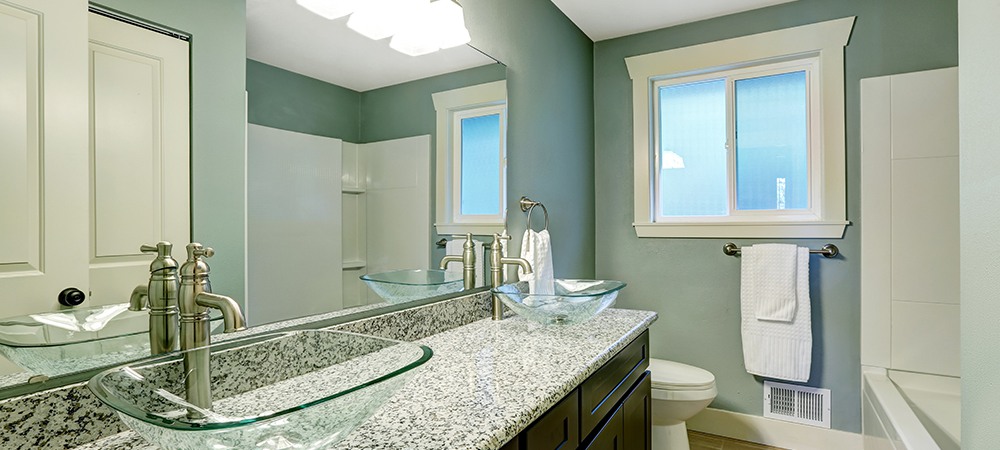 Deep greens and earthy browns invoke a sense of ease and relaxation removed from the hectic world outside. Choose these colors along with other neutrals to create a bathroom space that will encourage you to destress in a hot bath after a long day.
Beachy Beige
Soft beige tones combined with white create an open and inviting space. With sandy beige tones, you can create a relaxed and beachy vibe at any time of the year. These classic colors are also sure to age well in the coming years.
Seaside Blues
Colors inspired by the coast are also an exciting bathroom renovation trend. Consider aquamarines and teals along with seafoam green to create a relaxing, seaside vibe in your bathroom. To make this look work, avoid ultra bright or pale blues as these are less natural and less common to the seaside. Instead, choose blues that would look at home in a seascape. Consider blues for the walls and white for the flooring and fixtures. Natural wood tones can also be used in limited quantities in this color scheme.
Hot Red and Cool White
Red can sometimes be a controversial color choice. While dark, jewel toned reds can be elegant, they can also be overwhelming. Bright reds are beautiful in small doses but can be jarring to the senses when used in large quantities. Instead, consider creating a single wall with a red tone you like and using that in small ways throughout the room. For example, the towels and rugs can match this red. The rest of the bathroom should be done in white. Some wood accents and black accents may be used as well. However, avoid too much black with red as this can often be too dark.
Tips On How to Use Color in a Bathroom
Accented Neutrals: accented neutrals is a color design concept that takes a base neutral color and accents it with small pops of one or more other colors. Neutral colors include white, black, grey, beige and brown. These neutrals act as the perfect background to more exciting color accents. They allow you to use more interesting colors without making the space overwhelming.
Double Neutrals: Sometimes you can accent a neutral with another neutral. Black and white, white and silver, black and silver, tan and white are all common double neutral pairings that can give your bathroom a posh yet serene color palette.
If You Use it Once, Use it Three Times: In order to effectively incorporate a color into your color scheme, it should be used a minimum of three times. Using the same color at least three times in the room makes it look like an intentional style choice. Only using it once or twice can make it look out of place.
Use Dark Colors for Dramatic Effects: Dark colors are not often recommended for bathrooms because they are thought to make a room feel smaller. While covering any room in all black would be overpowering, there is no real reason to avoid some dark colors in your bathroom no matter its size. Dark colors can be dramatic and elegant. As a bonus, dark colors will not show staining or wear as easily as light colors.
Be Inspired by the Rest of Your Home: While having different colors and themes in different rooms can definitely be a fun and interesting choice, keeping a consistent color palette can also be beneficial. If you are struggling to figure out how to decorate your bathroom, consider what would go well with the rest of your home. In particular, what is the color scheme of the room(s) most closely connected to the bathroom. Creating a color flow between the rooms can create a sense of calm without a jarring transition.
Related Article: What Is the Most Popular Flooring for Bathrooms?
When is Color Not Enough for a Bathroom Renovation?
A new coat of paint and accent pieces can go a long way to making your bathroom more beautiful but it can not fix functionality issues. If your bathroom fixtures are decades old, tile is crumbling and paint is peeling, it may be time to consider a full bathroom renovation. Bathrooms are particularly prone to damage as moisture can build up and cause rot behind tile.  Plumbing can also be outdated which can lead to clogs and inefficient water use.
If your bathroom is no longer meeting your needs, it may be time for a complete bathroom renovation. With the quality renovation and remodeling services, your bathroom can be more comfortable, efficient and stylish.
Let Ontario's Bathroom Renovation transform your bathroom into an oasis. BR Bathroom Renovations Richmond Hill offers complete renovation and remodeling services to beautify your home. Contact us at (647) 834-8346 to schedule a consultation with our professional renovation team.